PART 1: Catalina Channel Crossing Recap
I have too many stories to fit onto one blog post so I decided to break up the recap into two posts. Hope you enjoy the summary.
Monday Morning: I was down in San Diego, staying with Tasha, Anders, and their two kids. It was really relaxing being with them. We all got up at different times, I sat downstairs at my computer typing a last-second update while sipping my iced coffee. What better way to start the day? There was a flurry of activity at about 10am PDT - roughly two hours before we planned to leave. I packed, Anders returned from his workout, and Tasha returned with their serviced van. Tasha had to shuttle the kids off to something so we said our "see you laters" at that point; then Anders, Chris, Bryn and I focused on packing the van for our 2-hour drive up to Long Beach. We departed as expected a few minutes after noon - perhaps 12:30pm at the latest. All was well. I felt really relaxed. We jammed to a live Phish recording during the drive and chatted away while we passed one rubbernecking opportunity after another. Go ahead and listen along while you read....
Monday Afternoon: We arrived in Long Beach way too early to board the boat but planned to check out the location just as we got there to ensure we had the right place. I'm glad we did. Well, actually, we had a bite to eat before we hit the dock. Where? The Poke Bar - of course. I wanted to taste the things we would be swimming with later.
Note the theme of this entire adventure? Snacks were the main focus; swimming came second.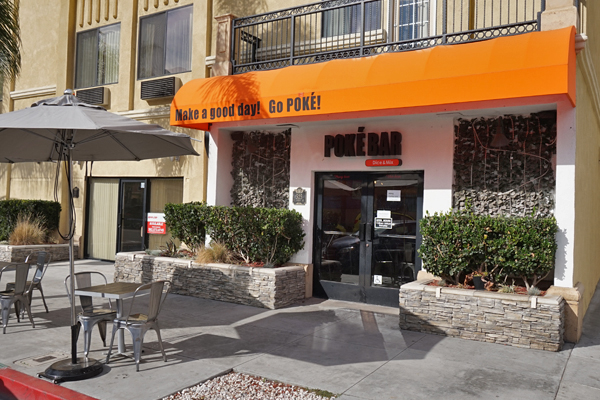 Poke Bar in Long Beach
Funny story from the Poke Bar. Chris ordered a medium bowl. Most of you may not understand the importance of his order but, rest assured, it was not lost on Anders and me. We took note. Chris said he already ate during the ride up and wasn't really hungry. Plus, he said..."Bryn and I will share this bowl"....meaning she could have one bite. Bryn had the gall to eat 6 bites and Chris complained vehemently that he was wronged. After a heated battle in court - I served as jury and Anders (the lawyer among the crew) served as judge - the decision favored Bryn. No tort ruling in Chris' favor so she was more than justified in her consumption. Sorry Chris. I'm sure you will be asking for those 5 bites back. Next time,
order the large
.
The Bottom Scratcher - our pilot boat - was docked at a marina behind a restaurant and it was not easy to locate right away. Perhaps the difficulty of locating it was due to our own preoccupation with other things besides navigating land. When we walked by the boat, Greg - the skipper - stopped eating, exited the galley and greeted us with a less-than-enthusiastic hello. I didn't blame him.
The Bottom Scratcher (on a different day for a different purpose)
We were over 4 hours early for our boarding time. None of us took it personally. We were too focused on our adventure and we obviously came too early. Regardless, Greg cleared up a few things and we were left to our own devices to figure out how to spend the next few hours. What better way to spend them than watching a movie? AND what better movie than one about the sea? NOT! I completely forgot what movie we saw. (NB: on my first draft of this post, I had "Finding Dory" as the movie we watched before the swim. Kat said..."you didn't watch that movie...") We actually saw this one:
A perfect way to start the adventure...with an adventure story....along with sewer swimming. Go see it if you like animated films. I am a sucker for a good cartoon story. Oh, did I mention that I surprised the crew. When I noticed we had 2 hours to kill, I knew we could squeeze in a movie if one started at about 4pm and lasted less than 2 hours. Voila! Found one and found the movie I knew all of us would enjoy. We sat in a semi-air conditioned theatre after enjoying some Poke at the Poke Bar.
Marathon swimming dream meal....burger and shake
Monday Early Evening: The movie ended about 30 minutes before we were supposed to be at the boat and the theatre was roughly 15 minutes from the dock. I was a little peckish and I knew the San Diego crew would be hungry too. Chris and Anders could eat at any time and any amount. Just as we discussed eating, Anders spied an In-N-Out burger place so we opted for the "bird in the hand." Good choice. Nothing beats a big greasy burger right before a long swim. Oh, I had a vanilla shake too. That hit the spot - all of them actually. Anders ordered 4 burgers. Yep, told you I was with professional eaters. We also had some of the saltiest fries I ever tasted. They were great but perhaps too salty for even the four of us salt lovers. So off we went to unload the boat at the dock.
Loading the boat took a little time but thankfully there were many around to help. We had loads of equipment bags - mostly food and water for me and the crew. After loading, we waited for the observers and then pushed off at
about 8:20pm for Catalina Island. The swim was from the island to the mainland; thus, trip one was to get out to the island and the skipper said it would take about 2 hours - give or take a few minutes. The skipper gave us a pre-trip lecture about the dangers of swimming around a boat with two huge four-bladed props. I got the message loud and clear. Greg offered the nice balance of salty humor and emphatic seriousness that kept us all on the straight and narrow. We got the message and then moved on to the next briefing - the one by the observers. That In-N-Out burger was causing me some serious stomach concerns. Good idea? I'm not sure. Perhaps the butterflies before an event caused the problems but they subsided after a quick trip to the head. All was well.
The briefing by the observers was quick and easy. Most of it centered on the do's and don't's of marathon swimming. I think my crew paid attention to most of it - at least that was my hope. They were all experienced athletes so they knew that rules were NOT meant to be broken - especially an expensive adventure like this one. We were focused on success and everyone was in a good mood.
I cannot really recall much about the trip out because I was going through a mental checklist. Also, I spent some time with Chris and Anders mixing my fuel and going over the routine with them. I figured if I told them about the mixing process, they could pass it along to the others. Chris - being a chemist - and Anders being a really smart guy - knew the importance of getting the fuel right. We were all set after about an hour so I chilled out and got into my swim kit. There wasn't much to get into. I purchased a new sexy outfit that only a beluga whale would appreciate.
Holy shmoly - that is one ugly walrus.
Note in the picture above, Anders was holding a donut; apropos for me and this entire endeavor. I looked like a stuffed sausage in that suit. The tiger motif was just hilarious. Add the getup with a little bit of Desitin and I was all set. Note that I wore the LOST swim cap that Mark Bintley loaned me after my first outing with the LOSTies last year.
Mark in pre-swim action pose
Mark - if you are paying attention - that cap is yours again after I finish the EC. You can keep it as a token of my appreciation. Also, if you wear it for your channel crossings, it can be the first cap to represent our awesome LOST group on multiple crossings. How does that sound to you and Rob?
The Start (11pm-ish): So, with my kit on and my stomach full of In-N-Out burger (and shake), I was ready to push off. We arrived at the floating deck - just off the beach of a Boy Scout camp where my swim started. Things were a little frenetic because we didn't have much notice but the kayak and feed bottles got sorted out in short order. I had no stress because I knew it was a long haul. No sense of stressing over little details. I stood there watching the water and the land a bit. My head cleared of all distractions so I was ready to get in the water. I think Greg - the Bottom Scratcher skipper - was getting a little antsy to start the swim. Once the crew launched the kayak with Anders aboard, we were off!
11pm start meant I began in the dark
Note the green steady light on the back of my head? I also had a green glow stick safety-pinned to my fanny. Yep, I was glowing green from head to butt. Some may say my brains were all lit up. Getting in was easy. The water felt warm and refreshing and I was just happy to get the show going.
The real start: My crew pointed a bright light on the beach and I swam toward what I could see. What I was not ready for was the swim line that marked the swimming area for the camp. Yes, I know many of you warned me of that darn rope. Blair told me about it and I am sure my friend Yuta did too. Needless to say, I forgot. One arm went over the top and my body scraped the rough rope from upper arm all the way down my body. The most affected area was my right armpit. That darn rope burned a small patch just outside my pec area and, along with the salt water stung like the dickens. The rubbing also wore away some of my Desitin so it was unprotected for the rest of the swim. To make matters worse. I hit the swim rope again on my way out. Yep, I'm as dumb as a bag of hammers. So I made it to the beach, scrambled out through the kelp and odd-shaped rocks on the beach. It was a sandy/rocky beach that didn't hurt my bony feet too much.
The observers instructed me to hold my arm up and walk toward the water. As soon as I hit the water, I was to lower my arm. I did as instructed and the skipper sounded the boat's horn. The swim was on!
Above is a fuzzy picture of Sean in the Kayak. Not sure if we got a picture of Anders during the first kayak session.
Woooo hoooo! Swimming was easy. Any and all stress I felt was gone. I was in a state of complete euphoria. With Anders on my side (in aforementioned kayak), I felt comfortable and relaxed. Yeah, as I mentioned above, on the way out from the beach, I ran into that darn swim rope again and scraped my left armpit. It was impossible to see it even if I remembered it was out there. Yep, I'm a dummy.
The first hour (all hours below from my perspective): I swam like Dory or perhaps like Nemo. Throughout the entire first hour, I kept saying..."go as slow as you can" - the directions given to my by Blair who swam the 4th fastest Catalina Channel crossing (ever). Blair gave me great advice. This channel swim is long; no sense burning up calories this early. I wanted to save energy and just enjoy the swim. It was enjoyable. I didn't kick at all and kept my stroke length very long and rate low (about 50-55 strokes per minute). Have you ever swum at night? It is a trip. I highly recommend it. Talk about sensory deprivation. Before the swim, there were sea lions chasing flying fish all around. The crew kept pointing out dolphins or perhaps they were porpoises and I just focused on the swim. Now that I was actually swimming, I kept an eye out for anything that seemed odd. The first hour brought me some odd sights indeed. First, the bioluminescence tailed off behind every hand stroke. It was really neat. I produced my own light show about 50 times a minute. On occasion, I caught myself staring down at my hands as they swept these lighted critters past me. Second, I saw some other light shows about 1-2 meters below me. These shows were produced by dolphins swimming perpendicular to my direction. They kept passing by me and I felt more and more comfortable being in the night ocean. No shark would dare come by me with my friends in tow.
Hour two: One hour went by so quickly. I fed 3 times (yes, I know, 20 minute feeds are very frequent but I trained to drink small amounts more regularly to stave off stomach bloat and keep me relatively entertained with frequent crew interactions) and then had Chris join me while Anders continued paddling beside me. The feeds went relatively well but they were slow. I didn't really care. The water was warm, I was with my friends, and we were experiencing something truly amazing. Imagine swimming with your close friends in the Pacific Ocean alongside dolphins. Would you care how long your feeds took? Nope, and neither did I. I just soaked it all in. If it were legal, I would have been high-fiving my friends throughout the swim.
Chris getting ready to swim with me.
As I said above, Chris joined me for the first buddy swim at one hour and he went for an hour. The truth of the matter was that I didn't see Chris much at all. Sorry Chris. I could barely navigate in the dark so I was dependent on the kayak to direct me. The kayak - per the skipper's instructions - must remain on the outside of me (to my right) while the pilot boat stayed to my left. I prefer to breath to my left but I couldn't make out the boat very well. My crew dangled light sticks at 4 or 5 locations on the boat's starboard side (right side for those who don't know port from starboard), and yet I still couldn't make out the orientation of the boat. Instead, I breathed to my right and steered according to the kayak. Chris swam between me and the boat so he was to my left. Thus, I was never able to see him much. Every time I switched to breathing on my left to catch a glimpse of Chris, I would run into the kayak. I just laughed it off and stayed true to the kayak after several bumps into that hard plastic kayak.
Hour 3: After the second hour, Sean spelled Anders on the kayak and I was left alone in the water during the exchange. I laughed a bit when I heard a bit of profanity coming from the pilot boat's stern. Apparently the kayak exchange had some rough spots. No worries on my end. The water was warm and I felt fantastic. We were doing this awesome adventure together and, so far, I shared it with all my friends and family. Yeah us!
Sean adopted a real mess on the kayak. Apparently, the kayak flipped during the exchange and the feed bottles (and retrieval lines) were hopelessly tangled with the paddle lines and other things. Yep, a real mess. Sean gave a yeoman's effort to keep that kayak tracking and upright - along with trying to sort out my complex feeding schedule. Sorry about that Sean. Next time, I will kayak for you...how about that trade? So I swam alongside Sean for this hour and had a tough time tracking. It seemed as if the swells picked up and both Sean and I had trouble keeping a straight path. When I tried looking at the pilot boat (to my left), I ran into the kayak. All was well but the feeds were really slow. None of the slow feeds were due to my crew. I had a bad plan - more on that later. They did the best with what I gave them. Oh well, we all learned something on this adventure.
Hour 4: Paul Grecco joined me for the second buddy swim for one hour. Paul and I swim together at George Mason with the Patriot Masters swim team. We get along splendidly - wouldn't you say Paul? Also, we are very well matched for speed. Others on the boat noted that later. We swam stroke for stroke from my vantage point and really got into a groove. I was feeling a bit rough at times during this part because the swell was behind us and causing my back a little trouble. Previously, several marathon swimming pals like Madhu and Yuta told me that a following swell was not always appreciated by swimmers. Well, I know full well why it wasn't ideal. The swell required me to keep my body position under load and that left me to compensate with my core and back. I felt out of whack for the better part of 2 feed sessions and mentioned that to Sean. To his credit, Sean didn't say much and remained positive throughout his 3-hour shift. I really liked having the comfort or pace swimmer because the kayak gave me some direction but not much feedback in terms of pace. Paul, Chris, and Anders - my pace swimmers - gave me one more thing to judge my direction and speed.
Can you make out two swimmers (me ahead of Paul)?
Hour 5: That previous hour flew by and I was left again to fend for myself. Sean put in one more hour by my side - putting up with a ton of hassles with the feed line, tangled bottles, and quickly disappearing fuel in the bottles. It was a real mess and Sean kept apologizing for the mess but I didn't mind. I asked a few times why so many bottles (4 in total) and he just said it was a mess. We left it at that and both went on with our tasks - I swam and he paddled. After this hour, the real fun began. I'll save that part for the second post.
Summary from PART 1
Suffice it to say that I thought I was going great. The feeds were a little rough but we were all in good spirits. My kayakers and pace swimmers all seemed to enjoy the crossing. I was in my element. Darkness, swimming, friends, adventure, family, fun, and, well, fun. What more could you ask for in a true adventure? OK, more later in my next post.
We leave for London and then Dover tomorrow evening so I promise to post Part 2 either later today or tomorrow morning. Time to get a few chores done. Thanks for following.